2015 (rev. 2019)
architecture

PROJECT TYPE:
Building Tech
SOFTWARE
Revit
Passive House Planning Package (PHPP)
Ubakus.de (U Value Calculator)

TOPICS
Sustainable Design
Passive House/ Passivhaus
CLT Construction
Photovoltaic Design
A net-zero Passivhaus inspired dwelling for two young professionals in Ottawa, Ontario.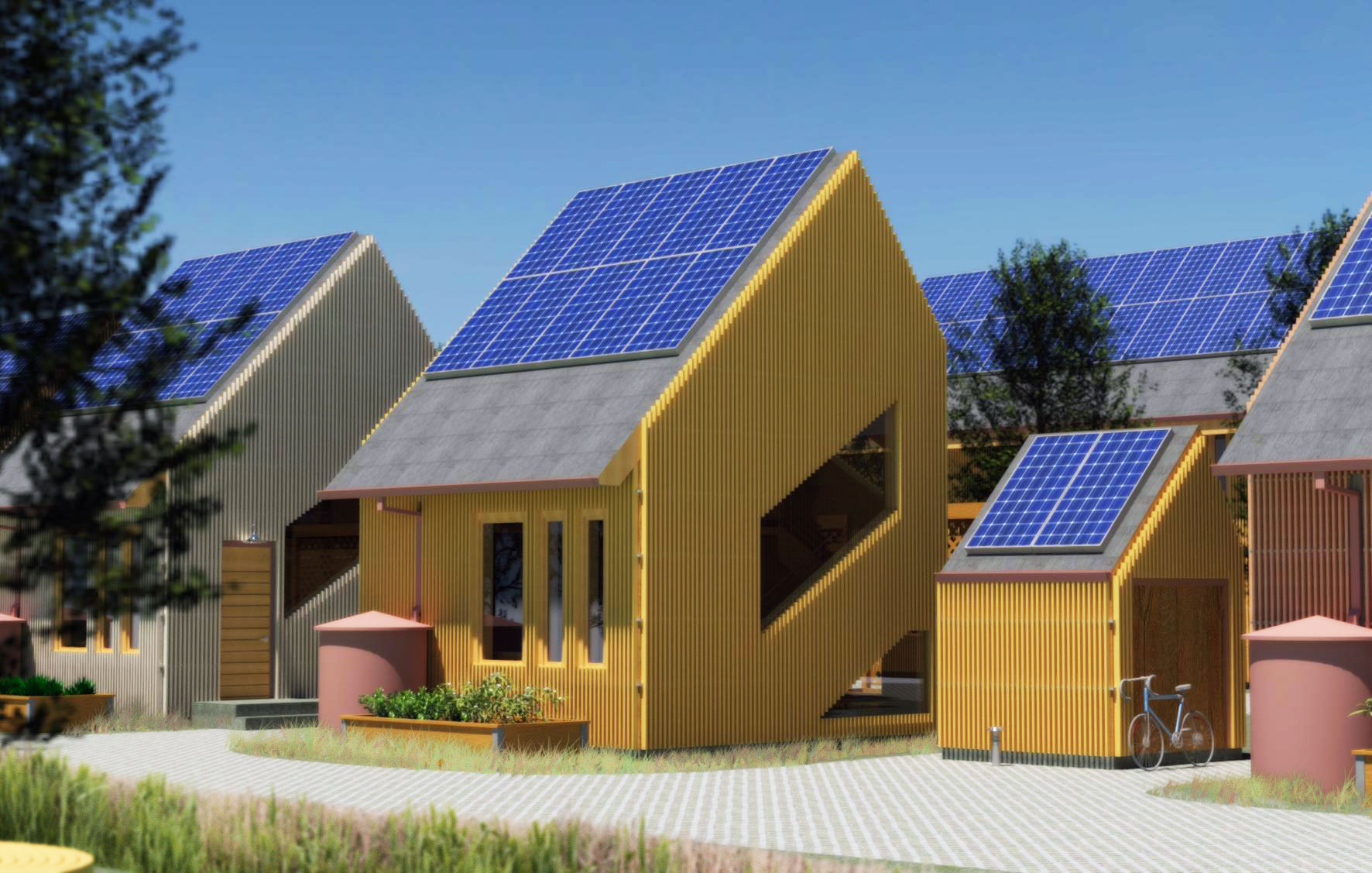 Program
The aim of this project was to design a net-zero energy dwelling in Revit for two young professionals in Ottawa, Ontario with a maximum energy consumption of 80 kWh/m
2
. The additional goal of achieving the Passivhaus standard was pursued and a preliminary analysis was conducted using the Passive House Planning Package.
The project brief's explicit sustainability goals were a small physical footprint to allow for higher density housing and optimized energy usage. These goals were achieved with a compact design, photovoltaic panels, and the use of building technologies that are novel in a Canadian context (e.g. cross-laminated timber, vacuum insulated panels, and compact heating/water/ventilation units).
Site Development
Optimizing the site potential and conserving/protecting water are important principles of sustainable design. It's appropriate in Ottawa's climate and geological conditions to consider strategies for stormwater retention, i.e. permeable pavers, rainwater collection for garden use, and bioswales for runoff. Outdoor lighting should be designed to reduce light pollution.
Since single family dwellings are low density, (even if they are tiny houses) it's recommended that higher density designs, like apartment blocks, take precedence for development.
Net-zero Energy Calculation
The tiny house's total energy consumption is balanced against the photovoltaics energy production:
Approximate Energy consumption
The required 80 kWh/m
2
to represent an efficient house is less than the 120 kWh/m
2
required in the Passivhaus standard and so this value is used instead.
Total energy demand:
37.5 m
2
x 80 kWh/m
2
= 3000 kWh
Approximate Photovoltaic Generation
Number of PV panel:
= Roof Area/ Panel Area
= 23.29236/1.952256
= 11.93 or 10 panels
Power output for 10 panels:
= 310 W x 10
= 3.10 kW
Electricity produced:
3.10 kW x 1250 kWh/kW
= 3875 kW

Energy Surplus:
3875 kWh - 3000 kWh
= 875 kWh
Given:
- PV panels on 45° sloped south-facing surface with area of 23.29 m
2
- Using Canadian Solar CS6X-310P-FG:
• 15.88% efficient
• 310 W/panel (flash test)
• Panel dimensions: 1968 mm x 992 mm (1.95 m
2
)
- Performance for 45° Slope: 1250 kWh/kW
- Location: Ottawa


Design
Cross laminated timber on slab foundation, insulated with vacuum insulated panels and wood fibreboard, and clad with wood.
A double story space (25m² main floor space with a 12.5m² loft floor space) with 2.5m ceiling heights provides 37.5m² of floorspace. The main entrance is through a storage wall on the west elevation with a separate interior doorway. The storage wall has space for a compact unit (a unit which provides all ventilation, heating, and water needs).
The main floor has a bathroom with stall shower, kitchen, three inward opening windows on the south elevation, and inoperable glazing on the north and east elevations. The stairs to the loft level are located on the east elevation and below them is space for a low table and floor seating, with glazing to provide light and views. The loft level is a CLT panel attached to the load-bearing CLT walls on three sides and two CLT walls support it from below.
Passivhaus Features
The tiny house is well on its way to achieving the Passivhaus standard due to the following features:
compact design is serviced by a compact ventilation unit

glazing oriented to maximize solar gain in winter and minimize it in summer, roof overhang length calculated for Ottawa

walls with a U-value 0.148 W/m²K

compact design, daylighting, and energy-efficient appliances should allow the tiny house to meet the Passivhaus primary energy demand standard of <120 kWh/m²

The wall assembly is designed for the Ottawa area Passivhaus exterior temperature design value of -19 °C and interior temperature design value of 20 °C. This results in a U-value for the wall assembly of 0.148 W/m²K (determined using ubakus.de), which is within the Passivhaus design target of 0.15 W/m²K for this region. Using VIPs in combination with CLT provides the required level of insulation without deep walls while the CLTs provide an attractive interior surface.
Glossary of Materials
Cross Laminated Timber (CLT)
: Engineered wood panels consisting of layers of dimensional lumber.
Vacuum Insulated Panels (VIPs)
: Introduced in the mid 1980s to replace materials containing harmful CFCs in commercial shipping applications, VIPS have five times higher thermal resistance than mineral wool insulation with significantly thinner construction.
Wood Fiber Insulation/Sheathing
: Provides vapour permeable insulation that also provides structural element for cladding
Wood Cladding
: Attached to rails in modular sections that can easily be disassembled in the case that any of the VIPs require replacement