2018
architecture

PROJECT TYPE:
Graduate thesis
Thick-skinned:
Using EnerPHit to conserve culture and carbon for sustainable affordable housing.
SOFTWARE
Sketchup &
designPH plugin
Passive House Planning Package (PHPP)
U-Wert.net (U-Value calculator, now ubakus.de)

TOPICS
Sustainability
Conservation
Social Housing
Passive House
This thesis project hypothesizes that the long term solution to housing is in creating buildings with lasting value and sustainable technologies.
01

Abstract

Canada's existing postwar modern building stock contributes greatly to climate change through greenhouse gas emissions but also represents a large resource of embodied carbon. The Ottawa Community Housing Corporation, the second largest housing provider in Ontario, owns much of this building stock. The buildings in this large portfolio are aging and in need of repairs; the average age of an OCH building is 45 years. Passivhaus provides a retrofit standard (EnerPHit) with which to retrofit buildings to the highest practical energy efficiency without discarding the technical and cultural assets they possess. These buildings can be retrofitted to provide or preserve affordable housing with low operating expenses while simultaneously addressing the conservation of embodied carbon and revitalization without gentrification.

This thesis hypothesizes that the sustainable route to affordable housing is in creating buildings with long-term cultural and economic value and it proposes some measures and strategies for retrofitting a postwar modern building to the EnerPHit standard in Ottawa's cold climate without rendering it vacant for renovation.
In doing so, it integrates the topics of modern conservation and environmental sustainability with the end goal of preventing the erosion of affordable housing and decreasing the impact of architecture on climate change. To this end, the design project is a consideration of possible interventions for an Ottawa Community Housing building intended to lower its total carbon emissions through energy reduction and the conservation of its embodied carbon. The goal of this project is to present interventions that balance high technical achievement in energy reduction with important cultural and social considerations.
The following is a brief overview of the thesis content, with particular focus on the architectural interventions. For an account of the experimental usage of designPH (a Passivhaus Sketchup plugin):


---
02

Project Background

Housing Affordability


My research began with a focus on housing affordability in Ontario, which then narrowed to subsidized housing, and then narrowed further to the housing portfolio of Ottawa Community Housing (OCH), the second largest housing provider in Ontario. I concluded that subsidized housing in Ottawa will remain the only viable option for many people and that the demand seems unlikely to ebb. This suggested that, in addition to other government housing initiatives, the preservation of the existing building stock in portfolios like the OCH's will be an important tool moving forward in any realistic housing strategy, especially if those apartments with family-sized accommodations can be maintained.

The portfolio of OCH, with an average building age of 45 years, is in need of repairs. In the past decade they have made significant progress in expanding their opportunities for development as well as addressing the renovation needs of their assets, but they still face a major deferred maintenance backlog. It's imperative that the needs of these aging buildings continue to be addressed, despite new affordable housing being built, considering they provide a remarkable number of homes for Canadians currently. The provision of housing is not the only reason the preservation of OCH's building stock is important: the renovation of these properties is linked explicitly with environmental sustainability as well.


Carbon Performance


The Canadian Green Building Council's roadmap for retrofit projects classifies residential buildings in Ontario as being one of the top eight prioritized building asset classes with the highest GHG emissions and the highest potential for carbon emission reduction by 2030. They also show that buildings constructed between 1960-1979 represent the largest share of large building GHG emissions, due to the fact that buildings constructed during this period had lower energy efficiency standards. It so happens that Ottawa Community Housing's building stock is comprised of 56% residential highrises, many of which were built between 1960-1979. Retrofitting these buildings to address their operational efficiency represents a significant opportunity to reduce the nation's GHG emissions.

Main principle of tower renewal

I became aware that a body of work addressing postwar modern residential buildings was already developing in the fields of energy retrofitting and building conservation, and indeed notoriety was developing as well, with regard to the Grenfell Tower Tragedy. The Tower Renewal Guidelines by Ted Kesik and the University of Toronto were immensely inspirational in the further development of this project, especially because of the idea put forth that the many postwar modern residential towers in Ontario represent not only an indispensable housing resource but also the critical mass necessary to create and sustain an innovative retrofitting industry. The main method proposed for tower renewal is addressing their deterioration and inefficiency from the outside-in: the recladding of the exterior using the existing masonry as a substrate with the end goal of developing a future-proof system wherein the facade is a replaceable skin for the building, changed as technologies and needs change. This not only addresses operational carbon emissions, but the massive amount of embodied carbon in these buildings' robust structures.


Modern Conservation


After hearing the same sentiments about carbon performance echoed in the field of modern conservation, I became interested in the idea of looking at these buildings not only in terms of lessening their impact on climate change, but also in terms of what principles of modernism they might embody, and how those might be enhanced for the benefit of our culture. To do this, I had to develop a set of common heritage characteristics for the postwar modern period as they might apply to a building like my chosen site.


Passivhaus & EnerPHit


By this point, the project consisted of the improvement of a postwar modern Ottawa Community Housing residential tower's carbon performance as well as the enhancement of its underlying modern values. Truthfully, the method of technical investigation and intervention had already been decided at the outset of the project, as I'd been studying Passivhaus, which provides a retrofit standard, EnerPHit, that has many of the same advantages as the new construction standard: excellent thermal environment and air quality, significantly reduced heating demand and therefore significantly reduced GHG emissions, as well as the additional advantages of the prevention of structural damage and mould growth caused by moisture and condensation. The stringent performance and comfort standards made EnerPHit an obvious choice for me, but the application of this standard to a Canadian postwar modern retrofit represents one of the novel challenges of this thesis.

To sum up the research in terms of the project: the project began with a site analysis of a current Ottawa Community building that incorporates site specific, conservation, and Passivhaus criteria. The technical method of investigation was to use the PassivHaus Planning Package in conjunction with designPH (the Passivhaus SketchUp plugin) to measure which interventions show a substantial improvement in the energy efficiency of the building over a baseline analysis. The designPH plugin is an iterative design tool and 3D modeling interface used in combination with PHPP, which is the excel-based program that is necessary for achieving the Passivhaus standard. These interventions were then evaluated according to the three dimensions of modernism (the social, technical, and aesthetic) in terms of their impact on the building as a cultural resource with the hope that the conclusion would provide some idea as to what the properties of a successful modern retrofit in this context might be.


---
03

Site

The building at 1365 Bank Street was chosen due to its mix of family sized units and the potential challenges it poses to a Passivhaus retrofit (for example: the L-shape form, lots of eastern and western exposure, and possible shading issues). Properties that have clear heritage value or that are particularly unique were avoided in order to pursue interventions that would have a more general applicability. This concrete highrise tower was designed by Howard Rafael from Miska & Gale Architects and constructed in 1972.

A number of models, both archetypal and literal, were made during the site analysis. These included models which define a successful retrofit according to modern conservation and passivhaus principles, a sketchup model of the building according to the original drawings and information from a site visit, and the corresponding designPH model required for the baseline Passivhaus Planning Package analysis.


---
04

Interventions
The thesis work required a Passivhaus Planning Package (PHPP) baseline analysis, and this was conducted in two parts. The first part was an experimental usage of the designPH plugin for Sketchup, i.e. use this software to conduct an energy and indoor environmental quality analysis on a pre-existing building and export that data to PHPP. The second part was to add any missing data to the imported designPH data within PHPP itself. These procedures are covered in-depth in the body of the thesis. The following is a description of the design interventions I conducted and how they were suggested by the site analysis.


Facade overcladding
PHPP Analysis of original building vs building with facade overcladding
The walls were upgraded to a U-value that meets the EnerPHit standard. The exposed slab thermal bridges, which were added to the baseline analysis, were eliminated and the original windows were kept. Overcladding the facade resulted in a 48% reduction in heating demand and a 42% reduction in heating load. However, the frequency of overheating increased from 3% to 11%, and this is considered unacceptable in the Passivhaus standard.
Windows
Old window vs new windows
The walls were reverted to their original values and the next intervention was to change the windows from their multipane configuration to simpler and larger operable windows. The glazing and frame U-values were upgraded to average Passivhaus values. After some iteration, a decrease in the solar heat gain coefficient and increase of the U-value on the north facade's glazing was input, and windows on the southern facade were added.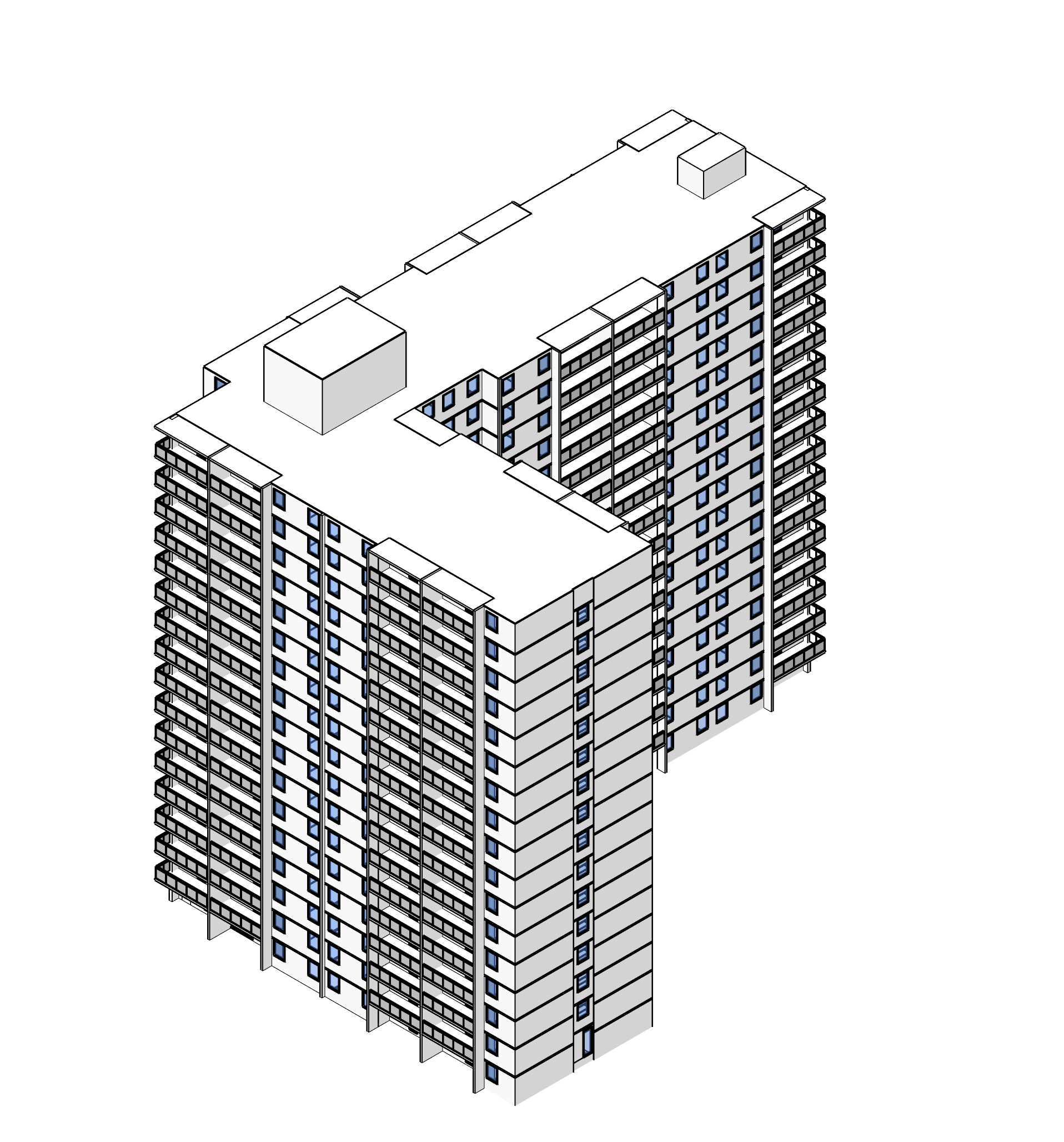 Glazing added to stairwell on southern facade
Compared with the baseline analysis, this resulted in a 23% reduction in heating demand, a 20% reduction in heating load, reduced the solar losses to gains ratio from 3.77 to 1.26, and had the additional benefit of the making the southern stairwell a more desirable method of circulation. With windows, this stairwell would provide passive cooling via night ventilation during the warm season and require less electrical lighting during the day. With the window retrofitting, overheating became a problem at 10% of the days during the year (which is the upper limit of the Passivhaus standard) and so a solar shading strategy was suggested.
Combined Facade Overcladding with Window Upgrade

Heat losses & gains for the baseline building vs upgraded building


Combing the facade overcladding with the window upgrading resulted in a 70% improvement in heating demand and a 62% reduction in heating load. This left heat losses via the ventilation system as the primary cause of heat loss in the building. Without the solar shading, the building suffered from a 31% overheating frequency, which dropped to 18% with additional solar shading on the eastern, western, and southern facades, which illustrates the effectiveness of this passive strategy.
Landscape Revitalization
New ground floor plan and traffic interventions
The next intervention was landscape revitalization, which was necessary in order for the surrounding tower landscape to serve its original purpose of humane urban environment. The interventions aimed to improve the situation for pedestrians by adding visible crosswalk markings at key intersections and lowering the speed limit in this area of high pedestrian/vehicle interaction. The surplus above ground parking was annexed to a protected green space for the residents which would be accessed through the existing lounge and laundry rooms.
Intervention Evaluation
Intervention evaluation chart, based on the EPFL-ENAC-IA-TSAM guidance table, from Modern and Green: Heritage, Energy, Economy
These interventions were evaluated according to cultural, economic, and technical performance metrics in order to make visible their effects on energy use, cost, cultural values, and embodied carbon in a style that was modeled off of an existing conservation retrofit project.
---
05

Example
The overcladding I tested in PHPP was a wall assembly with a U-value of 0.116 (an RSI of 8.6, or an R value of about 49) and so that's what I aimed for in this example wall assembly. The section I chose to focus on was the overcladding of the balconies; the original assembly had a U-value of 0.38 (an RSI of 2.6 or an R value of about 15) although my model didn't take into account all thermal bridging, and so heat loss was likely higher. In contrast, the new assembly has a U-value of 0.112 and thermal bridges were eliminated in this design.



1365 Bank undergoing superficial renovations, U-value and moisture analysis of existing balcony facade vs an overclad balcony facade.



The assembly I developed was influenced by what I learned in the Tower Renewal Guidelines and the EuroPHit EnerPHit handbook. The wall assembly is a panel system overcladding with a pressure-moderated drainscreen approach for moisture management. This was chosen over an EIFS face seal system for its ability to accomodate a wider range of finishes, ease of disassembly for future replacement, and, in my opinion, superior ability to be repaired in an aesthetically acceptable way. The air barrier is located directly against the existing exterior wall surface; I believe the best solution would be a spray-on air barrier because the deep relief of the fluted concrete block might make it difficult to apply a textile membrane. I've also assumed that the entire assembly must be vapour permeable due to the existing foil-backed gypsum and urethane foam on the interior.


Section detail at balcony overcladding (adapted from Tower Renewal Guidelines)



The cladding chosen for the facade is a cement fibre board with fluting for the areas were the original fluted concrete block is and smooth for the contrasting balcony facades. According to the marketing, these panels are resistant to fire, frost, impact, extreme temperatures, and they have a lifespan in excess of 50 years with low maintenance. These characteristics alone make it a worthy choice for this kind of project but I also think that the textured boards are particularly worthwhile because they would provide relief on the large flat expanses of facade (which I believe was the original intention for the fluted concrete block).



1365 Bank with overclad facade, fluted cement fibre board compared to original concrete block


In this example, window overhangs are provided wherever sun shading is necessary instead of exterior blinds. This is because overhangs are a more reliable form of sun-shading; they're non-mechanical so it's unlikely they'll break or need to be replaced. The original railings, with some modifications to their height and positioning, are reused as well.


---
06

Conclusion and Reflections

The results of the evaluation chart are in line with the expectations developed throughout this thesis, and represent a significant improvement over the status quo. Despite the limitations of this study, it is certain that the building's carbon performance would be improved significantly from the interventions that decrease heating demand. This is an important result considering that as of 2015, space heating of residential buildings is second only to industrial mining in contributing to Canada's GHG emissions. While this study was necessarily limited in scope, the process illustrates how guesswork can be taken out of energy interventions at the design stage by architects. The relative triviality of intervention testing versus the complexity of actual implementation is a particularly useful feature for designers.

One thing that is made clear by the evaluation chart are the energy savings of each intervention over the baseline (with the exception of landscape revitalization). There is a savings of 58%, or about $13 million over 50 years with a payback period of about 15 years. These saving would be even greater if the interventions included heat recovery systems. Additionally, while difficult to assign a quantifiable economic impact, the interventions are expected to enhance the productivity and satisfaction of residents.

In terms of future applicability, 1365 was designed by the firm Miska and Gale, who are responsible for several other buildings with similar features that were constructed during the same time. This suggests that design work for retrofits of this type of building will likely be broadly applicable to multiple buildings from the same firm, leading to overall lower costs.

A necessary driver for this retrofit industry will be an optimism that these retrofits make sense culturally as well as environmentally. It's not evident whether higher standards of living for lower income people in North America will even be possible without the reuse of a large part of the significant resources invested in the mid-century. Sensitive energy retrofits are able to contribute powerfully to cultural preservation and political action, but their ability to improve the housing situation for many through increased comfort and decreased operating costs is by far their most worthwhile social contribution.


---
Why "thick-skinned"?
It is a common assumption that Passivhaus buildings, since they often require high levels of insulation to achieve the standard's envelope performance, have thicker walls than average construction.

The over-cladding of pre-existing concrete and masonry structures results in a deep wall assembly.

There is a lack of esteem and affection for deteriorating postwar modern tower buildings that show no obvious architectural merit despite the abundance of energy they embody. We're lucky they haven't all crumbled under the weight of our criticism and deferred maintenance.
Canadian citizens who need our social housing system are unjustly required to develop skills or lifestyles to cope with the low supply and quality of our social housing stock, or they suffer.


---

Illustration quotes from Carl Elefante's "Changing World, Evolving Value: A Historic Preservation Roadmap Toward 2050" and Theodore Jonathon Kesik's and Ivan Saleff'sTower Renewal Guidelines: For the Comprehensive Retrofit of Multi-unit Residential Buildings in Cold Climate